When we collaborate with our danish and international customers our goal is always to ensure a documented effect on the bottom line and sustainable economic growth. That is why we have looked into how our customers are doing compared to the market.
Just like 2018 and 2019, this year we are also proud to announce that our customers' 2020 sales have grown by more than 100% compared with other e-commerce companies.
Analysis: Web2Media clients beat the market growth by more than 2x
As the news from 2019 where we helped our customers to double their growth, we are thrilled to announce the same news this year. In other words, this year we have also managed to ensure growth for our customers.
From our data, we can derive that our customers from 2019 to 2020 have grown by more than 100% when we compare with the average in the e-commerce market.
Web2media's customers compared with the index numbers for e-commerce in Denmark
Green: Index numbers – Web2media's customers     
Blue: Index numbers – e-commerce in Denmark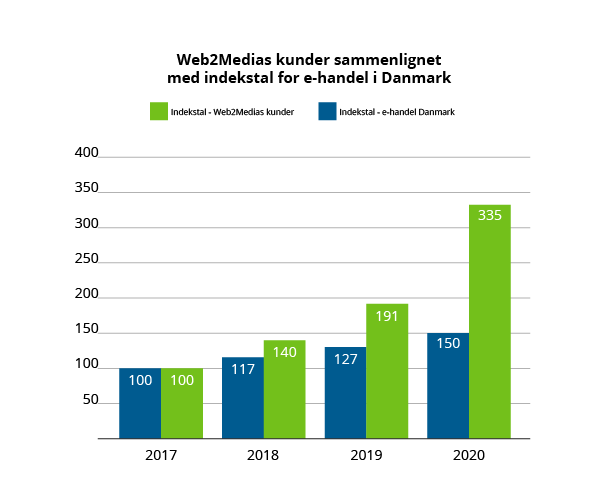 *Incl. cookie correction by new cookie rules from February 2019.
The database includes a broad selection of B2C customers who have been customers in 2020 and a minimum of three years before that. The data is based on the first 10 months of 2020 and is a comparison with competitors and the market.
We do see that Danish e-commerce continues the growth curve in 2020 and has gained further growth after the Corona pandemic.
The same is seen in Europe, where Ecommerce Europe estimates growth of 12,7% and Statista estimates growth of 18,5% in B2C e-commerce.
Web2Media's B2C customers have grown by 49%, which is approximately 31 percentage points better than Statista's growth forecast for 2020.
Together with our costumers
We truly believe that great results are created by close customer relations. We will always go the extra mile to ensure that our customers will succeed in digital marketing and growth. In other words, it is our ambition to support our customers' business with targeted advice with our dedicated team of digital experts. Unfortunately, there is not a one-size-fits-all solution, but there is a common structure across our customers that makes the process easier for them and us. We experience a special value by ensuring an efficient interaction between different platforms and between our mutual organizations.
"I am incredibly proud of the results we create together with our customers. The analysis is proof of what we do is right. Our way of working – strategic, tactic, and operational – makes a documented difference. It makes me happy when our customers are happy and that must be the real meaning of the work we do. I look forward to 2021 where we will grow with our customers by continuously strengthen our team with skilled specialists and experienced consultants."

- Kim Jørgensen, Partner
We think that one of the factors of our customers' success is because we always do our best to be ahead of the market. By a data-driven approach, we ensure that our efforts and resources are adapted to selected segments and the general development.
Do you need help to unleash your digital growth potential?
With our annual benchmark analysis, it is our goal to give you documented insight into the result we create together with Danish and international B2C and B2B businesses.
Do you want digital growth for your business? Get in touch with us here for a non-committal conversation or feel to contact us at the button below.