Big ambitions in an international perspective
At Web2Media our goal is to be the greatest digital marketing bureau in Europe. For this reason, we are a proud member and co-founder of Dall Int., which is an international alliance between the absolute best digital bureaus in Europe.
An important part of the alliance is the constant exchange of experiences and new learnings between the more than 460 competent specialists available. We continuously keep each other up to date through various relevant workshops.
All members of Dall Int. share the same values and ambitions on behalf of ourselves and our customers. Meet one of the members here:
Knowledge-sharing across countries
Due to our alliance with some of the greatest digital marketing bureaus in Europe, we are sure to stay on top of the game.
Our involvement in Dall Int. provides us with valuable knowledge that most other bureaus do not have access to. Thus, as our customer you benefit from the experience and knowhow of several hundred specialists based all over Europe.
As a member of the Dall-family, we have the best possible conditions to stay up to date on national as well as international trends. Our partners in Dall Int. share insider knowledge and hands-on experience from countless cases, which we use to create value for our customers.
Get access to unlimited amounts of knowledge
Instead of having a country manager for every country you wish to enter and having to coordinate with several bureaus, you can work with one single bureau that has access to experts and resources all over Europe.
Having a finger on the pulse in all European countries, we can help you prioritize your resources in the areas that will benefit your business the most. If you are particularly interested in a specific market, we can introduce you to some of the best experts within that market - experts for whom we can vouch.
During the past couple of years, we have developed a number of digital powertools, and because of our membership in Dall Int. these tools can be used worldwide. Their purposes are to optimize your work life and maximize your profit.
When only the best is good enough
Let us be honest: Not everyone can be part of Dall Int. To become a member of the Dall-family, you must be among the top 3 % of all Google Premier Partners. In addition, you must be able to present a number of cases which impress even the most experienced specialists in online marketing. That is the hard truth.
Currently, Dall Int. includes: 463 employees, 47 languages, 73 prestigious prizes, and 451 specialist certifications!
To conclude, we did not co-found the alliance in order to have another fancy badge on our website. On the contrary, we did it with the purpose of lifting our customers' businesses to a whole new level – nationally as well as internationally.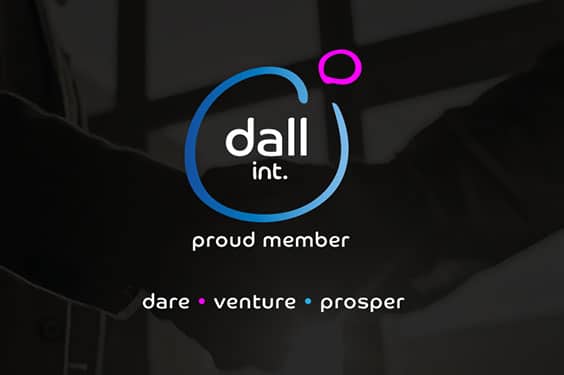 Do you want to collaborate?
Feel free to contact us in order to find out how we can improve your digital marketing. Let us utilize our knowhow and make your brand known online.